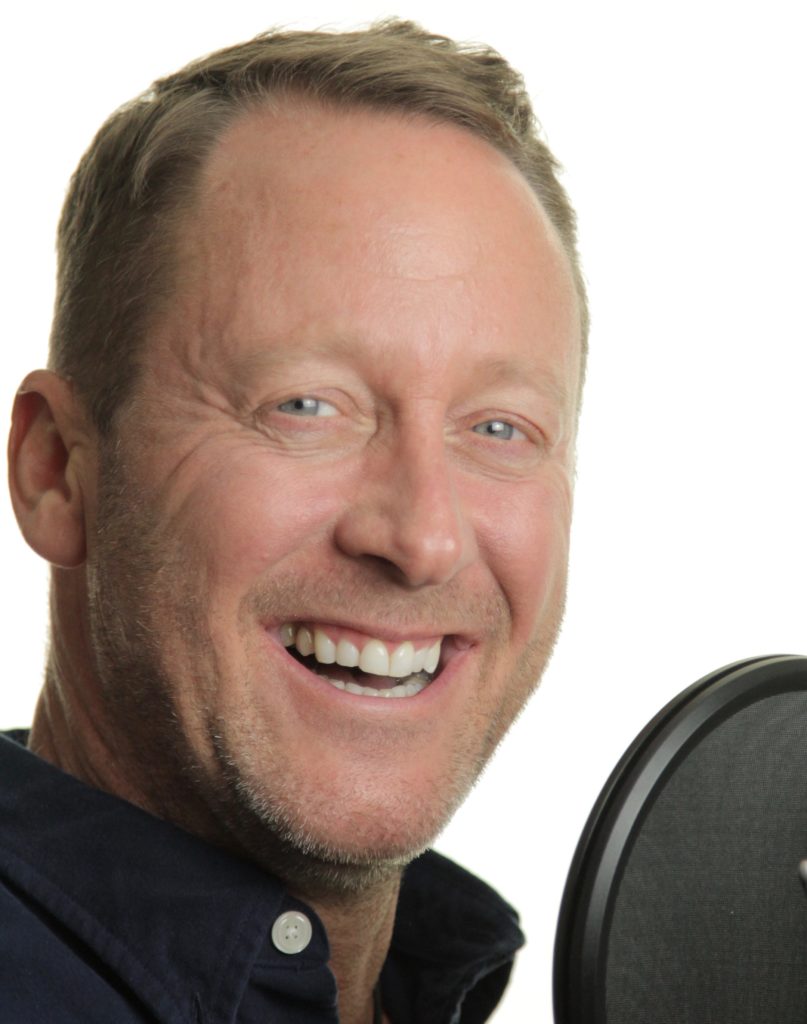 Hi. I'm Andy B Robinson and I am an award winning British Voice Actor, Actor and Presenter
I'm 47 years young and I live with my wife Aga and our dog Alfie in High Wycombe, South Buckinghamshire, UK. Originally I'm from Torquay in Devon but have also lived in the Isle Of Man and spent 10 years working on the islands of Mallorca and Gran Canaria.  I've always been obsessed by anything performance related and my talent was recognised early on when I was chosen to play St George in an infant School production of St. George and the Dragon, during which I had to KISS A GIRL. You'll be pleased to know that I survived this childhood trauma and am now actually quite fond of girls and kissing. The therapy was reassuringly expensive.
Later I went on to star in other school productions (Professor Higgins in My Fair Lady, Hobson in Hobsons Choice) and represented my school, winning a Best Speaker award in the inter schools Public Speaking competition (the first ever Chairman to take the award). I was involved with local youth theatre and won a professional credit or two before heading to sprain to work as a DJ, Cabaret Artist and Compere.
Upon returning to the UK in 2001 I fell into a 12 year corporate career that included 7 years with Krispy Kreme, ending up as National Retail Sales Manager and was subsequently headhunted by Apple. In 2015 I decided I'd had enough of proper jobs and retrained as a voice actor.
So that is now me. I'm a Voice Actor, I'm a Screen Actor and I'm also a Presenter. In the last few years I have gained voice credits with some big brand names, acted in a couple of major brand adverts and hosted a 5 day a week Breakfast Show on Wycombe Sound 106.6FM.
I speak fluent Spanish and my English is pretty good too and generally I'm a remarkably happy and positive person. I aim to bring that to my work and my clients tell me that working with me is a positive experience from start to finish. My articulate communication and intuitive ability will help deliver your message in just the right way and my infectious enthusiasm is, well, infectious.
Thanks for stopping by my site, please take a few moments to have a look around and don't hesitate to get in touch.